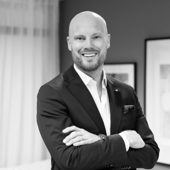 Robin Björklind
Chief Sales Officer – Management Team
I have been in sales for 10+ years and came back from Ireland and working for Linkedin in 2017, after having spent three years in Dublin. Since then I have focused on helping Nordic companies in building stronger commercial teams based on the learnings gained working for Linkedin and serving clients such as Salesforce and Google.
My work life passion lies in maximizing the value we create for our customers. Making sure we communicate and realize those values for current and future users. In my view we are only ever as good as our clients* percieved/realized value of using our solutions.

Personally I enjoy to work out, spend time with my family (fiancé and son) and friends, try (and usually terribly fail) at some DIY-project at home, boating in the summer.
Curious about a role here at Utilifeed? Feel free to drop me a note or text me and let's chat :) We are building our teams steadily and will be hiring for additional commercial roles within the coming months!